Places to Visit: Interlaken - Jungfraujoch Top of Europe - Lucerne - Titlis
Validity:Nov 20 2023
Duration:4 Nights / 5 Days
Highlights:
Jungfraujoch Top of Europe, the highest railway station in Europe is located at 3454 m
Mount Titlis, Europes highest suspension bridge, the Titilis Cliff Walk even sets a new record
Lucerne, the Chapel Bridge and its Water Tower
Interlaken, the adrenalin metropolis of Switzerland and gateway to many excursions
Day Wise Detailed Itinerary
Day 1
Arrival in Interlaken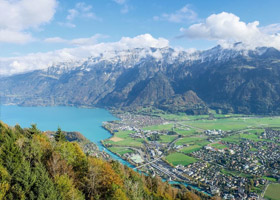 Arrival in Interlaken by train 2nd class from the Swiss border or airport.
Overnight in Interlaken
Day 2
Interlaken to the Jungfraujoch (4h)
Excursion from Interlaken up to the Jungfraujoch Top of Europe. The highest railway station in Europe is located at 3454 m. Visitors have access to a high-Alpine wonder- land of ice, snow and rock, which they can admire from the viewing platforms on the Aletsch Glacier or in the Ice Palace. The railway journey to the Jungfraujoch is an experience which leads through the Eiger and the Mönch. At the Eismeer and Eigerwand intermediate stations, visitors can enjoy the beautiful view from the Eiger North Face.
Overnight in Interlaken.
Day 3
Interlaken to Lucerne (2h)
Rail journey over the Brunig Pass to Lucerne. Day at leisure for optional excursions.
Overnight in Lucerne.
Day 4
Lucerne to Mount Titlis (2h30)
Excursion to Mount Titlis at 3020 m. From Lucerne the train takes you to the mountain monastery village Engelberg where you board the 8-seater cable cars Titlis Xpress directly to Stand station. From there the world's first revolving cable car Ttitlis Rotair takes you straight up to the summit of Mount Titlis. For a spectacular close-up insight into a glacier, visit the glacier cave or ride the Ice Flyer chairlift. Get your thrills on the Titlis Cliff Walk, a spectacular suspension bridge at a height of 3041 m.
Overnight in Lucerne.
Day 5
Departure from Lucerne
Return to Swiss border or airport or individual onward journey.
Inclusions
Swiss Transfer Ticket Combi: Top of Europe + Titlis (5 transfers) incl. excursions to Jungfraujoch and Titlis in 2nd class from/to Swiss border or airport
2 nights in Interlaken, 3* hotel, standard double room with private facilities, breakfast
2 nights in Lucerne, 3* hotel, standard double room with private facilities, breakfast
Exclusion
Anything else which is not mentioned in the inclusions